*UPDATE*
We've been featured on Days of Chalk and Chocolate! Stop by and check it out!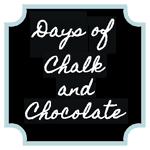 Hey everybody! This is my first time posting. Earlier I was featured for my Cheesy Chicken Bake. Megan and Emily decided to bring me in full time though. I am so excited to share all of my ideas with y'all. This week I wanted to show you how to make Scrapbook Paper Envelopes. These are super cute and extremely easy to make.
What you will need:
-Scrapbook paper
-Glue
-Scissors
-Pencil/Sharpie
-Ruler (Optional)
-Template(see below for description)
Originally I couldn't find dimensions for the template, so I decided to free hand it. You want a shape like a diamond but two of the peaks will be a bit smaller than the other two. The two smaller ones will be opposite of another. Imagine a rectangle in the center and the smaller peaks are the shorter sides of the rectangle.
Once your template is ready lay it flat on your scrapbook paper and trace it out.
Next you will need to cut out the traced template.
Once cut, fold the two smaller sides so they overlap. Glue them together at the tips.
Now fold the right side up.
Fold back the tip and cut so it is even with the rest of the envelope.
Glue the right side down.
The final step is to fold the top (left side) down.
Voila! You have yourself a homemade envelope.
They are so inexpensive and you can use them for a variety of occasions. From wedding invitations to birthday parties. If you desire, put a little glue or tap on it and send them through the mail. Your friends and family will absolutely love these. Personally I'm a fan of the kitty cat envelope. You will come to find that out. I'm a big cat lover!! Hope y'all enjoyed this post.