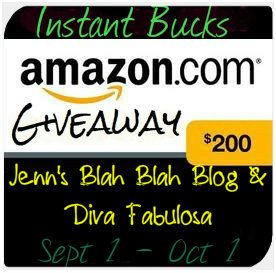 You guys are familiar with Superpoints right? Well, there is a new site out now called Instant Bucks that pretty similar and gives you the opportunity to earn some serious cash. Sign up here if you haven't already!
Now, what do I have to say about this little giveaway? Well, I'm glad you asked. If you join you can offer your readers this wonderful $200 Amazon Gift Card.

The event runs from Sept. 1, 2012 until Oct 1, 2012! This will be plenty of time for all of your readers to enter this absolutely awesome giveaway!
FREE Facebook Link

Addtional Links at $2

Picket Fence Votes $3
Learn more about this wonderful Amazon Giveaway at Jenn's Blah Blah Blog.