Hi everyone! Happy Saturday and welcome to Whimsically Homemade's first Saturday Social Blog Hop! We're super excited to be having this event every week and we hope that everyone else is too. Before we get started, I just wanted to remind everyone that we have TWO great giveaways going on right now. The first is the $200 Instant Bucks Amazon Gift Card Giveaway that will be going on until the 1st of October. The second is our biggest giveaway yet. The Hello Fall $1000 Cash Giveaway launched today and will end on October 22nd. Guys, please be sure to stop by and enter so you don't miss out on all these great prizes.
Are we ready to get this party started? Yeah? Okay. Good. But first, a few rules. I know. I know. Who likes rules? But we gotta have them.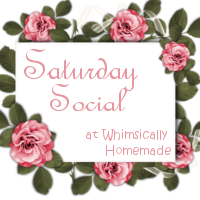 Tweet
*IMPORTANT* PLEASE LIKE ALL FACEBOOK PAGES FROM YOUR PERSONAL ACCOUNT! IF YOU DO NOT LIKE FROM YOUR PERSONAL ACCOUNT IT DOESN'T COUNT!
1. Please follow Whimsically Homemade on Facebook, Twitter, Pinterest, and GFC. Please comment and let us know so that we can return the follow.
2. Please grab the blog hop button and link back so we can help each other!
3. Please no giveaways, Etsy shops, or commercial sites. This is a blog hop to help get more traffic to your blog and Facebook pages.
Whimsically Homemade does reserve the right to remove any links that do not follow Saturday Social rules including but not limited to those that link to your shop, giveaways, round ups, commercial sites, and those that do not link back to Whimsically Homemade.
Link up your blog here!
Link up your Facebook page here!
Link up your Twitter page here!