TGIF! YAY! Sorry this week's finds are a little late. I've been super busy today running errands and cleaning. I hope everyone had a good week. Before we get on with this week's finds I want to let everyone know that our Etsy shop is now up and running. I hope you guys will stop by a check it out and maybe...buy something...maybe. We have direct checkout up and running too. YAY! Anyway, on to this week's favorite finds. Just let you know, there will be no favorite finds next week because I'll be in Orlando spending time with my family.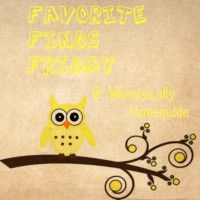 If you were featured we ask you pretty please to grab a button. It's not mandatory, but it would be nice.
Megan's Picks
1. Book Bag at Country Living. I love love love this bag. Even if it's entirely too small to fit all the of junk that I carry around. It would make a great gift for someone who reads a lot like myself.
Okay. There you go. Enjoy them. Give love. These ladies work real hard and it's nice to know that someone thinks they are awesome!