Yikes! Friday already. I got halfway through my day and realized I haven't don't favorite finds yet. So, sorry it's so late getting our find out, but here they are. Everyone enjoy!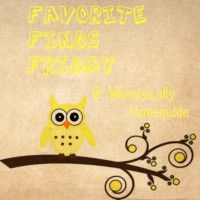 If you were featured we ask you pretty please to grab a button. It's not mandatory, but it would be nice.
Megan's Picks
1. Soda Can Key Chain at Diary of a Crafty Lady. I love key chains! I have a whole box just full of key chains that I've collected since I was way little. This little project is just so unique . I have a a coca cola key chain, but nothing like this. I love the fact that you can design it yourself. Can you imagine the possibilities with this? You could even make soda can earrings!
Okay! There they are! You guys enjoy. Let us know what you think. Better yet, let our featured blogs know what you think by leaving some comment love for them. See you guys next week!