Woo Hoo! Three day weekend! Well, for most people anyway. I've got to work tomorrow, but such is life. I am going to Atlanta (again) on Sunday and Monday though to watch a couple of baseball games with my beau and his dad. So that should be fun. Anyway, this week's favorite finds are in. I hope you guys enjoy them. Let me know what you think. Or better yet let all the wonderful ladies that were featured this week know what you think.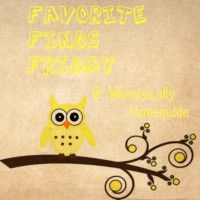 If you were featured we ask you pretty please to grab a button. It's not mandatory, but it would be nice.
1. Vintage Suitcase Entrance at
Red Hen Home
. If I had a home of my own and a beautiful entryway like this, I would decorate it with vintage suitcase shelves too. This entryway is absolutely gorgeous. Although, come to think of it, this kind of project maybe a little to complex for me. But in a perfect world right?
2. Homemade Cake Pan Release at Rose Bakes. HOLY SMOKES! This is the best idea EVER! I've totally got make some of this up for when I go on one of my baking crusades.
3. Mini Hamburger Cookies at Six Sister' Stuff. When I first saw these I thought they looked like they were going to be ridiculously hard to make. Then I read the recipe and realized how extremely simple they actually are. And cute too!
4. Texas Sheet Cake Cupcakes at The Little Kitchen That Could. I love Texas Sheet Cake, but the cake itself is huge and I always end up eating WAY more than is healthy. These guys are perfect and I can't actually cut a huge piece of cake that I know is entirely too big for me.