Happy Friday everyone! I hope everyone's week and Mother's Day was wonderful. I want to take a minute to share with you the present I made for Emily and a mutual friend of ours for Mother's Day. Being a mother is a hard job. Even though I don't have kids myself, I know this. Emily works hard to make sure that Scarlett gets what she needs. And I know there are some days where she is dead tired but still manages to make dinner, get Scarlett' her bath, and get her little one to bed all after a hard day's work. I just wanted to make a little something to remind her that all her hard work as a Mom is noticed.
I came across this too cute can of goodies at Our Best Bites. You can find the tutorial for it here.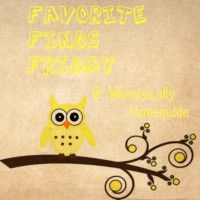 If you were featured we ask you pretty please to grab a button. It's not mandatory, but it would be nice.
Megan's Finds
1. Ruler Spice Rack at Old Sweet Song. This is just absolutely genius. And great for someone who doesn't have a lot of space in their kitchen like me.